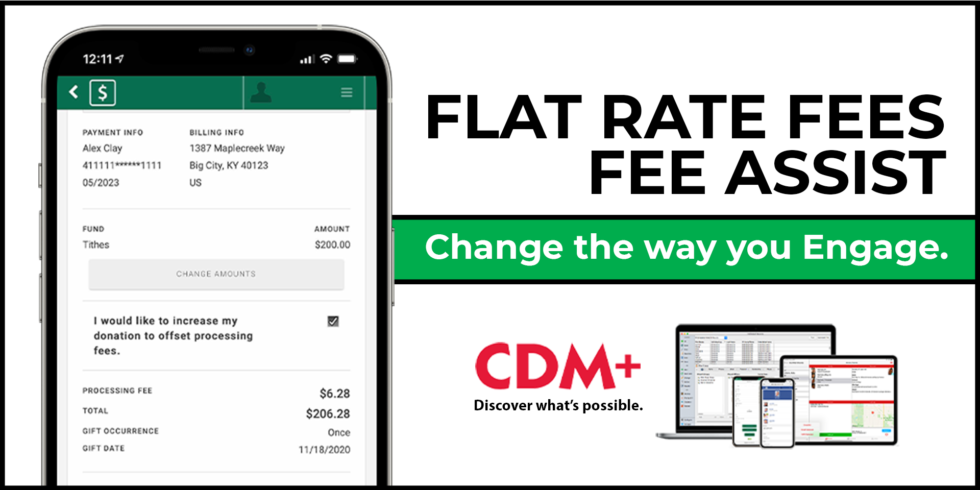 Discover what's possible with Engage Online Giving during the holidays
Flat Rate Fees – Enjoy consistent and predictable credit and debit card fees
Fee Assist – Offer your givers the option to cover online giving transaction fees, so you can receive 100% of your donor's intended donation
When you make the move to Flat Rate Fees, you open the door to offering Fee Assist to your givers.
Switch to Flat Rate Fees
Don't wait! Change the way you Engage with your givers and make the move today. Follow the step-by-step instructions below to switch to Flat Rate Fees.
CLICK HERE to download Stewardship CDM+ Flat Rate Fee Form.
Enter your organization name
Initial where indicated
Email the completed form to customerservice@suran.com along with your organization name and location
You will receive a confirmation notice once your merchant account has switched to flat rate fees
Turn on Fee Assist
Switched to Flat Rate Fees and ready to turn on Fee Assist? It's easy!
CLICK HERE for simple directions to turn on Fee Assist.
Contact Us
Give us a call at (800) 633-9581 or email support@cdmplus.com with any questions.
Not using Engage? Call 877-891-4CDM (4236) or email sales@cdmplus.com.
*Fee Assist and Flat Rate Fees require enrollment in Engage Complete.
Contact Us
Have questions? Want to schedule a demo? Drop us a line!