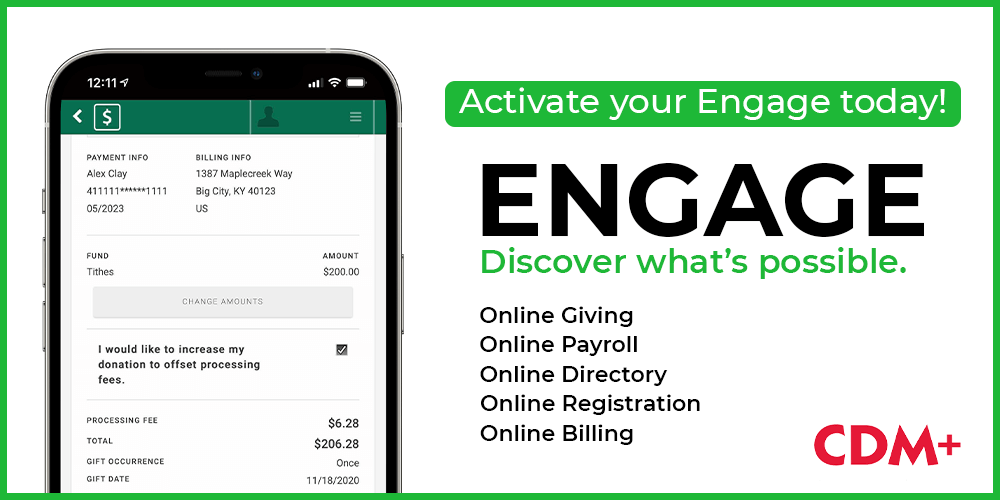 It's Time to Engage
Are you ready to discover what's possible with Engage? Engage is included at no extra cost in your monthly CDM+ plan.
If you are on a CDM+ Plan then you own Engage right now. Simply contact us today to turn it on.
When you activate Engage in your CDM+ configuration, you instantly open the door to a world of new opportunity and connection.
Provide an easy-to-use, mobile optimized portal for online giving and text giving. Engage Giving truly offers the best value for accepting online donations.
Offer your employees convenient online payroll access to their pay history and tax forms. Streamline your week-to-week and yearly payroll operations by giving your employees the power to view and print important documents.
Provide your members with easy access to a live online photo directory of your church or non-profit organization. Give your members the power to manage their own information and connect.
Gain the ability to offer 24/7 online event reservations, accept online payments, and manage any event. Fully customizable forms and easy reservation reporting gives you the power to manage events with ease.
See faster returns on invoiced bills and simplify your monthly administrative workload with Engage Billing. Provide an easy-to-use, mobile optimized 24/7 portal for online billing and online bill pay.
Get Started
Give your members and staff the power to update and manage their own information, make online donations, make and take registrations for events, view pay stubs, and so much more.
Call us at (877) 891-4236 or email sales@cdmplus.com and turn on your Engage today!
Have questions? Want to schedule a guided demo?
Get in touch and let us help tailor a software solution just for you.