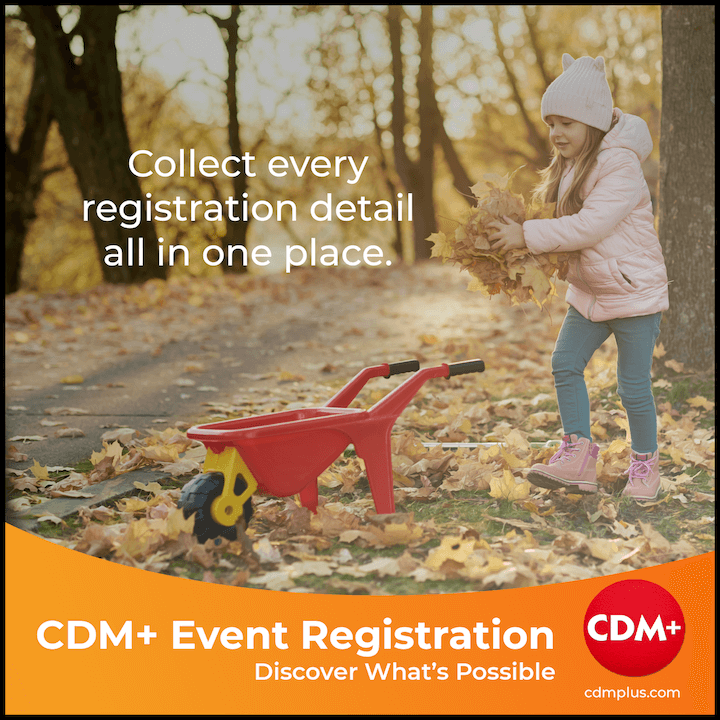 With the arrival of Fall weather, comes the arrival of Fall events. Fall Festivals, Thanksgiving gatherings, Trunk or Treat, Book Clubs, Membership Classes, and BBQs; just to name a few. Whether your community is meeting online or in-person, staying on top of every little registration detail can be a real challenge.
Stop searching and syncing. There is a better way.
CDM+ Event Registration lets you accept registrations and payments, in-person or online, while also collecting every registration detail all in one place.
• Customize forms to suit your specific needs.
• Take online registrations and online payments.*
• Enter registrations and payments manually or over the phone.
• Customize forms to suit your specific needs.
• Offer the flexibility of full or partial payment options.
• Record special needs such as allergies or medication.
• Attach files to registrant's information such as PDF's, photos, or documents.
Learn More About Event Registration
Streamline your registration process and discover what's possible with Event Registration. Contact us today at (877) 891-4236 or sales@cdmplus.com.
*Merchant account application required for online registration activation at no additional cost.
Get Started
Have questions about CDM+? Want to sign up for a free, personalized demo and see CDM+ in action? Contact us today!