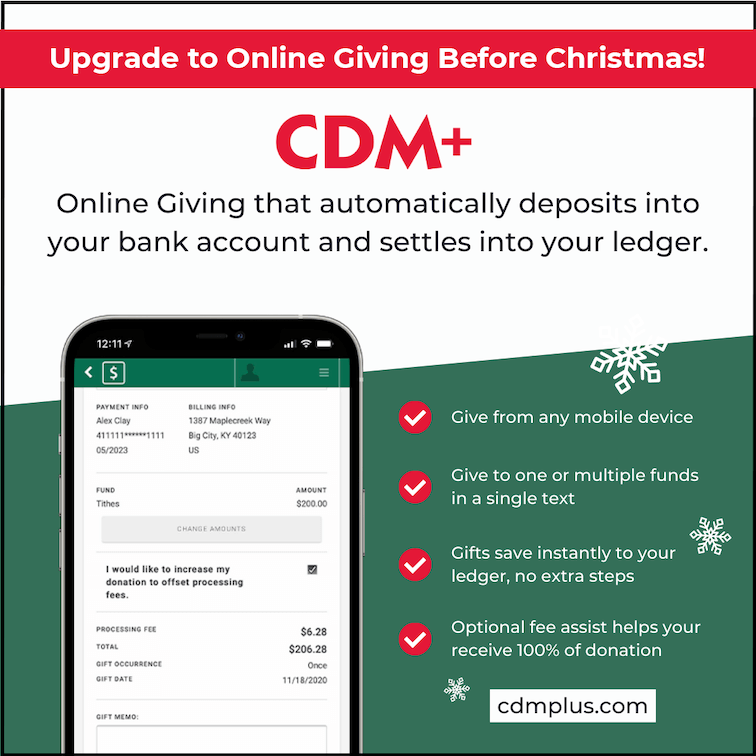 'Tis the Season for Automatic Online Giving
Are you ready for this season of online giving? CDM+ makes it easy.
Make the move to CDM+ Online Giving right now and have the best in-class Online Giving solution set up and running for your organization before Christmas! If you do any of your online giving manually or with a third party, CDM+ changes everything.
Online gifts flow AUTOMATICALLY into your bank account
Donations AUTOMATICALLY enter into the donor's record and appear on statement
Deposits AUTOMATICALLY settle into your ledger
It's that simple. You don't have to lift a finger. CDM+ automatically credits and debits the correct ledger accounts for 100% accurate accounting and reconciliation.
CDM+ also gives you the flexibility to offer multiple designations to different funds such as a special Christmas offering, music ministry, or memorials for loved ones who have passed. Now it's easier than ever for your givers to donate directly to one or multiple giving funds of their choice with a single gift or text.
Don't wait! Contact us at (877) 891-4236 or email sales@cdmplus.com to have you set up before Christmas!
Want to see CDM+ Online Giving in action? Click Here to schedule a free demo.
Get Started
Have questions about CDM+? Want to sign up for a free, personalized demo and see CDM+ in action? Contact us today!