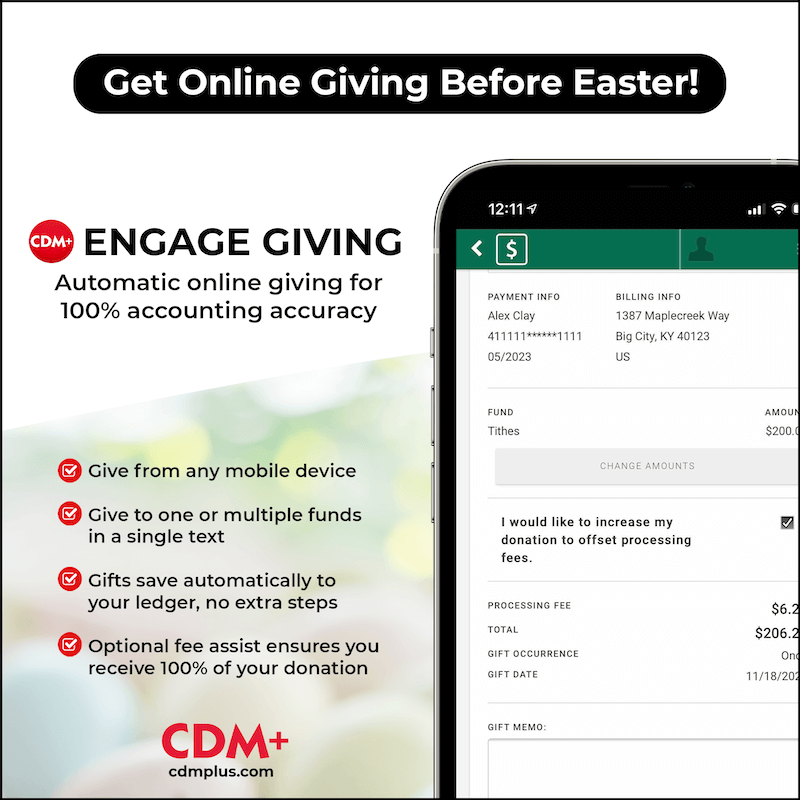 Stop spending valuable time on donation processing and let CDM+ Church Management Software do all the work! Our online giving solution, Engage Giving, integrates with your bank account and gives you the freedom to accept online gifts and text gifts anytime with no extra steps. What's more, both services offer great features that can help pastors track giving and monitor the financial health of their congregation. 
Every online gift made through CDM+ automatically credits and debits the correct accounts for 100% accurate accounting and reconciliation.
It's that simple!
With Engage Giving your givers can:
Create one-time and recurring gifts from any mobile device
Donate to one or multiple giving funds with a single text
View their giving history online
It's easy to set up multiple credit cards, debit cards, or ACH accounts and create an easy way for your givers to make donations online.
Visit cdmplus.com/online-giving/ to learn more about Engage Giving and get the most from your church management software.
Want to see how Online Giving works? Follow the link below to schedule a demo.
Don't wait! Get started today!
Contact us at (877) 891-4236 or email sales@cdmplus.com.
Get Started
Have questions about how CDM+ can work for you? Want to sign up for a free, personalized sales demo and see CDM+ in action? Contact us today!