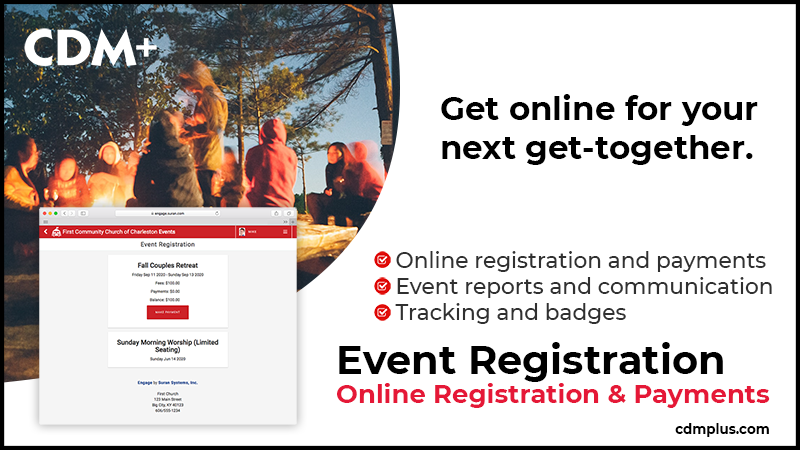 Get CDM+ Event Registration with online registration for your next church get-together
Revolutionize the way you manage registrations for your upcoming summer camps, VBS, and fall retreats with CDM+ Event Registration. CDM+ gives you the power to take your events online and provide unlimited sign-ups, with no per registration fee, for events through any desktop, laptop, or mobile device.
Add Event Registration and take your events online!
Why offer online registration?
Convenience for you and your registrants.
Convenient registration and communication through email before and after events
Convenient for accepting any necessary payments
Eliminate unnecessary paperwork and data entry
Collect all your registration data in one place for convenient storage and access
Convenient for increasing event attendance through email marketing of events
CDM+ gives you the added flexibility to mix and match online and in-person registrations and payments.
Every in-person and online event payment made with CDM+ automatically integrates into your banking system
And with all your event data in one CDM+ database, it's convenient to print name badges, locate important registration information like insurance cards and dietary needs, or create detailed event reports for analysis.
It's a great time to schedule a quick CDM+ Event Registration demo! Simply follow the link below and schedule a date and time that works best for you.
Ready to get started or have questions about pricing for Event Registration? Contact us today at (877) 891-4236 or email
 sales@cdmplus.com.
Discover how CDM+ can help your organization grow and succeed.
Questions about integration?
Interested in pricing and plan options?
Want to schedule a sales demo?
Reach out and contact us today!