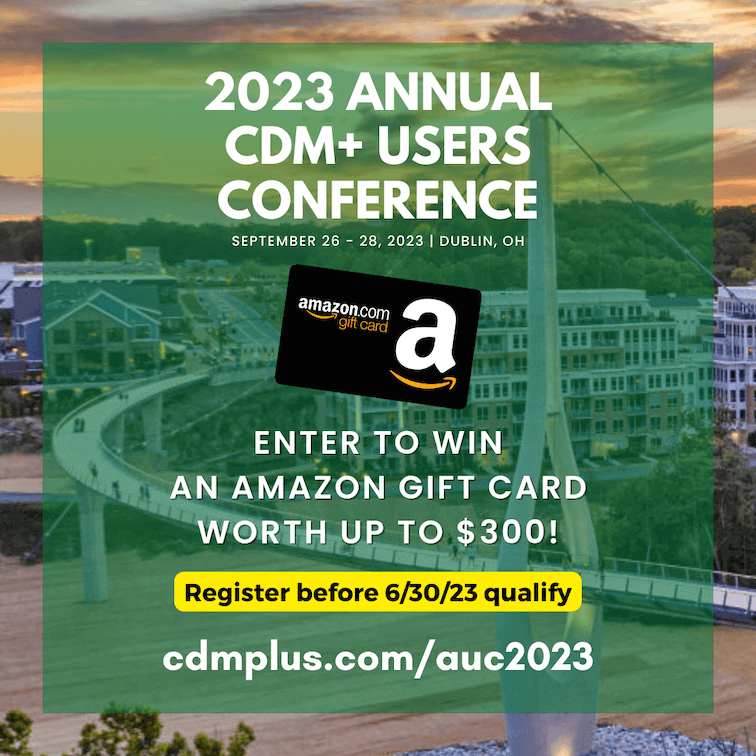 Register today to save and win
The 2023 Annual CDM+ Users Conference is just around the corner! We hope you'll join us September 26 – 28, 2023 at the Embassy Suites in Dublin, Ohio. It's our biggest training event of the year and we want you to be a part of it!
Register before June 30, 2023, to secure your spot and have the chance to win an Amazon Gift Card worth up to $300! By registering today, you can also take advantage of our Early Bird discount of $150 on registration fees!
Connect with fellow CDM+ users from across the country
Share experiences and exchange ideas with experts in your industry
Train new staff and get them up to speed
Enhance your CDM+ skills and discover new ways to work smarter
Get 1-on-1 support in our Computer Lab
Enjoy time away from the home office and relax
Don't miss this great opportunity to learn, connect, and unwind.
Visit https://www.cdmplus.com/auc2023 to learn more and secure your spot.
Remember, June 30, 2023, is the last day to qualify for the Amazon Gift Card drawing so don't wait. Register today!