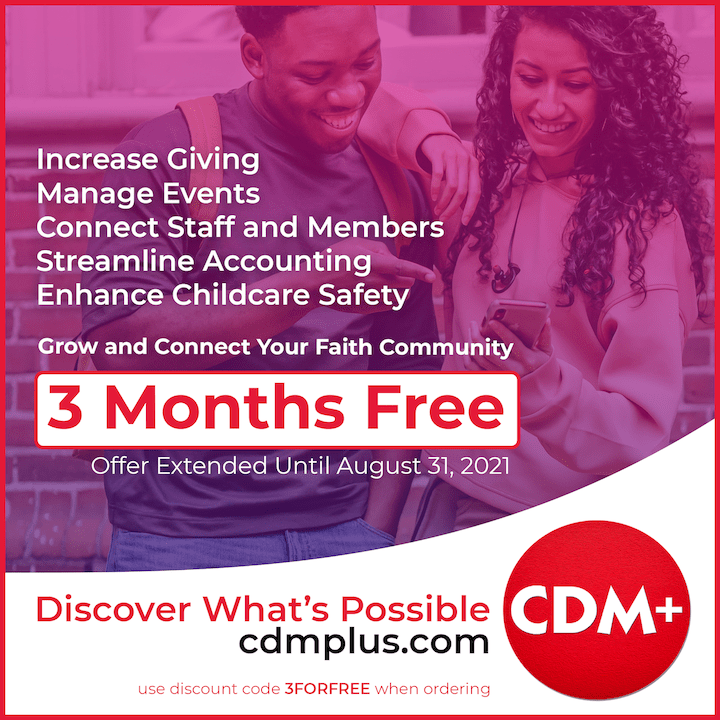 Try CDM+ Free For 3 Months and Discover What's Possible
For a limited time, when you order CDM+, we're offering a FREE 3 MONTH TRIAL* of our complete and connected church management software family.
3 Months Free on any CDM+ Plan
Free Data Conversion
Complimentary Training
The summer is a great time to settle into something new and get ready for the flurry of Fall activity waiting just over the horizon.
Want to see an increase in your giving?
Looking to connect your staff and congregation online?
Ready to streamline accounting procedures?
Searching for a way to enhance childcare check-in/check-out safety
CDM+ has a wide variety of simple solutions tailored to help solve your specific church management needs.
Choose any or all that CDM+ has to offer and discover what's possible.
Fill out our form to learn more or contact us today at (877) 891-4236 or email sales@cdmplus.com.
Be sure to mention the discount code 3FORFREE.
*This limited time offer valid for new customers only and ends August 20, 2021. Terms and conditions apply.
Have Questions?
Want to request a quote or simply interested in learning more about a CDM+ feature? Contact us today.